Home
›
General Discussion
The Transformers Forged to Fight community has officially moved to Discord. For all the latest news and updates,
join us here!
Whenever you want to put him, this Bot NEEDS to be in F2F...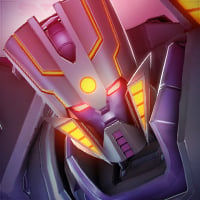 Predacon_Order
Posts: 257
FACTION:
Decepticon.
CLASS:
Demolitions.
BIOGRAPHY:
Born as Damus, a Bot with the abillity to render non-sentient machinery inoperative, the outlier known as Glitch has been punished with the tradiction of empurata and eventually reshaped into a deceptive, violent form. Rebuilt in a battle set-up by the Decepticons once he joined them, the reckless leader of the Decepticon Justice Division - Tarn - is willing to do anything for his idol and master Megatron.
SIGNATURE ABILLITY: Talk You to Death
Some would say that Tarn is so reckless and influenced by Megatron's "literary quotes", that he can adjust the degree of his voice and talk other Bots until their very sparks decay and give up living.
75% chance to trigger upon being in Melee distance to the opponent. This Buff lasts for 20 seconds and causes Tarn's next Special Attack to be awarded a 20%~80% Damage boost and consume the Buff. If "Talk You to Death" triggers when the opponent's Health drops below 10% while Tarn is Enraged, there is a 85% chance that the opponent is K.O.d instantly.
---
Please,
@Kabam Miike
, tell it to the team. I'm pretty sure Tarn deserves a place in the game, matterless if he hasn't showed up during the Prime Wars Trilogy. I'm also sure a lot of people agree on that.
Tagged:
This discussion has been closed.