Home
›
General Discussion
The Transformers Forged to Fight community has officially moved to Discord. For all the latest news and updates,
join us here!
Unicron alliance event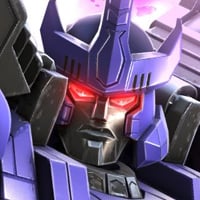 UrAverageMalaka
Posts: 664
This is an idea for some new content. This is basically a ROTK type of thing but with the whole alliance. It will be unbelievably hard and you will need your whole alliance.

Greeting commanders, Unicron has been spotted a few light years from new quintessa and is heading straight here. His heralds have been spotted roaming new quintessa for total domination. Gather your alliance members together and help fight of chaos. Good luck.

It is like an alliance mission type of mode but with tag team (you can swap bots mid fight). You can have up to 5 bots. There will be 12 lanes which makes 6 people for support. They lay out will be like this:
6 heralds in each lane (one of each class). These heralds are zombie type of bots that have been controlled by unicron (just think of TFP when dark energon posesses Cliffjumper). It is also tag team for the enemy. The tag team for the herald consists of this:
The main herald (stats of primal boss in AM D/100) the main herald can swap mid fight with minion heralds (easy lane 3.2 master difficulty stats). These minon heralds have the same abilities as the main herald, just weaker. When a herald gets KOed, they crumble on the floor (as they are basically zombies) this is the abilities of each class herald.

All heralds have heavies that are beams of energy from their mouth that is 100% chance dark burn (some classes can add more debuffs with the heavies.)

Scout: 30% chance ranged and melee evade, 60% chance crit, 40% power drain on all specials.

Demo: Dark burn from heavy has a 100% chance to inflict dark energon burn (a lethal burn that also drains power). Crit damge 300% more damage, ranged attacks 100% chance unblockable. 100% special damage increase.

Tech: Heavy also inflicts shock dealing 150% of damage, 6 tech shields that inflict 300% shock damage if been hit by melee (can get rid of shields from ranged attacks), power gain if specials connect.

Tactician: 100% chance to nullify chance on all basic ranged, Resistance buffs, armour breaks (if they nullify on armour breaks, they inflict shock dealing 200% damage), if opponent hits while blocking it knocks them back (just like mix master) and they gain a 50% damage attack buff for every combo they complete.

Brawler: gain 1 melee buff when special bar fills up (dealing 150% more damage each melee buff and can be stacked up to 5 times) they heal double of what the bleed damage while bleeding, gain an armour buff when specials connect that soaks up to 20% of damage.

Warrior: 100% to bleed after every combo dealing 300% damage. Gains a 7 second armour piercing buff once special bars fill up, opponents can not evade attacks, 100% crit rate. 40% chance to bleed on crits.

Once you get through that path you have to verse the bosses. The heralds also get the mods the bosses have in the room they are in. Each bosses stats are about the same as a bot from ROTK so it takes a whole alliance to finish one boss. You have a maximum of 2 revives and three heals in each room. When you defeat a herald, all your bots heal 20% of their health. If you defeat a boss, all remaining bots get a 50% heal and dead bots get revived to 25% of health.

The bosses tag team stats are the same as the main heralds and gain the bosses mods. These bosses include:

Bludgeon: 300% crit damage, 100% crit rate, Resitance buffs, 100% precision buff, Buffs can't be nullified or stolen. The other 4 heralds budgeon tag teams with are the warrior heralds.

Cyclonus: 100% chance to reflect ranged when blocking dealing 250% more damage, 150% damage shocks when nullify, 100% armour piercing, heavy bleeds dealing 150% damage, gain 4 resistance buffs after being hit bu a melee soaking up 20% each (can remove resistance buffs from ranged attacks). His tag team is his armarda. His armarda has 150% ranged speed and armour piercing on each melee hit.

Scourge: He is a scout with a 5 second power lock after every combo he finishes, power drains on sp1, heal block on sp2, and 7 stacked bleeds on sp3, his signature is a power gain on every melee hit. The mods he is on is Triple debuff duration, 40% chance to evade melee hits, bleeds inflicted on him do 50% less damage, and powergain after he dodges every ranged attack. His team consists of his sweeps, his sweeps have give a backfire buff on every hit, dealing 150% more damage that the special does.

Galvatron: 1000% ranged speed, 50% crit rate, 400% crit damage, Galvatron also gains the abilty to get an extra 30 dark energy buffs by simply backstepping (like prowl) 100% chance to burn on every basic ranged dealing 150% damage, 300% special damage, and power leaks after every melee
(like the left lane in the first room for AM). His tag team consists of the demo Heralds.

Megatronus (No class): exact same relics as the one in his spotlight but has some extra mods, 100% unblockable, 200% ranged speed, bleeds at the end of every combo dealing 80% of damage, Dark energon burn at the end of every heavy, can only purify the relic of chaos (burn everytime you get to close). His heralds are all the previous bosses (but the same stats as the main heralds.
Once your alliance defeats him, you move on to mission two. Unicron.