Home
›
General Discussion
Spotlight Mission: Reforged - Galvatron Rising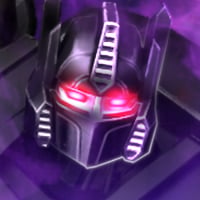 Kabam Miike
Posts: 1,833
Administrator ›
"It's a pity you Autobots die so easily, or I might have a sense of satisfaction now!"

Madness and deranged power descend upon the Wasteland with the arrival of Decepticon heavyweight Galvatron. His crazed ambition has everyone on guard and preparing for a Decepticon leadership showdown!

Relive the Classic Spotlight Mission "Galvatron Rising" with difficulties that were not released at the time!

The Mission starts on March 7th!




New Bots This Month
This month, we only have 2 Bots for you to choose from. You'll be able to Purchase 3,4, and 5-Star Versions of Ramjet and Ratchet!

New Relicsh
Have you been saving your tickets? You can now spend them on Galvatron and Hound Relics!

Rewards
[EASY]
Completion:
Ch1 - T1 Basic Spark x 1, T1 Class Spark Crystal x 1
Ch2 - T1 Basic Spark x 2, T1 Class Spark Crystal x 1
Ch3 - T1 Basic Spark x 3, T1 Class Spark Crystal x 2
Act - Premium Mod Shards x 500, 2 Star Bot Crystal x 1, Premium Bot Shards x 2000
Mastery:
Ch1 - Premium Bot Shards x 500, T2 Basic Spark x 1, Premium Mod Shards x 250
Ch2 - Premium Bot Shards x 1000, T2 Basic Spark x 1, Premium Mod Shards x 500
Ch3 - Premium Bot Shards x 1500, T2 Basic Spark x 2, Premium Mod Shards x 750
Act - Relic Ticket x 1, T1 Alpha Spark x 1, 3 Star Bot Crystal Shards x 1000, 2 Star Bot Crystal x 2, Premium Bot Crystal x 1, Bot Chips x 2000

[MEDIUM]
Completion:
Ch1 - T2 Basic Spark x 1, T1 Class Spark Crystal x 1
Ch2 - T2 Basic Spark x 2, T1 Class Spark Crystal x 2
Ch3 - T2 Basic Spark x 3, T1 Class Spark Crystal x 3
Act - T3 Bot Shards x 500, T1 Alpha Spark Essence x 5000, Premium Bot Crystal x 1
Mastery:
Ch1 - T3 Bot Shards x 200, T1 Alpha Spark Essence x 2000, T2 Class Spark Crystal x 1
Ch2 - T3 Bot Shards x 300, T1 Alpha Spark Essence x 3000, T2 Class Spark Crystal x 1
Ch3 - T3 Bot Shards x 500, T1 Alpha Spark Essence x 5000, T2 Class Spark Crystal x 2
Act - Relic Ticket x 2, T1 Alpha Spark x 1, 3 Star Bot Crystal x 1, Premium Bot Crystal x 2, T3 Basic Spark Essence x 5000, Bot Chips x 6000

[HARD]
Completion:
Ch1 - T2 Class Spark Crystal x 2, T1 Mod Spark Crystal x 1, T1 Alpha Spark x 1
Ch2 - T2 Class Spark Crystal x 2, T1 Mod Spark Crystal x 1, T1 Alpha Spark x 1
Ch3 - T2 Class Spark Crystal x 2, Premium Bot Crystal x 1, T1 Alpha Spark x 1
Act - Premium Bot Crystal x 5, T1 Alpha Spark Essence x 5000, T3 Basic Spark Essence x 1000
Mastery:
Ch1 - T3 Bot Shards x 400, T2 Alpha Spark Essence x 1000, T3 Basic Spark Essence x 2750
Ch2 - T3 Bot Shards x 600, T2 Alpha Spark Essence x 1500, T3 Basic Spark Essence x 3250
Ch3 - T3 Bot Shards x 1000, T2 Alpha Spark Essence x 2500, T3 Basic Spark Essence x 4000
Act - Relic Ticket x 3, T2 Alpha Spark Essence x 5000, T3 Basic Spark x 1, 4 Star Bot Crystal Shards x 1000, 3 Star Bot Crystal x 1, Bot Chips x 10 000

[EXPERT]
Completion:
Ch1 - T1 Alpha Spark Essence x 3500, T3 Basic Spark Essence x 1250, T2 Alpha Spark Essence x 1250
Ch2 - T1 Alpha Spark Essence x 6500, T3 Basic Spark Essence x 1750, T2 Alpha Spark Essence x 1500
Ch3 - T1 Alpha Spark x 1, T3 Basic Spark Essence x 2000, T2 Alpha Spark Essence x 1750
Act - T4 Basic Spark Essence x 1000, Premium Bot Crystal x 5, T2 Alpha Essence x 3000, T3 Basic Spark x 1
Mastery:
Ch1 - T3 Basic Spark Essence x 4000, T2 Alpha Spark Essence x 1750, Bot Chips x 6000
Ch2 - T3 Basic Spark Essence x 5000, T2 Alpha Spark Essence x 2250, Bot Chips x 10 000
Ch3 - T3 Basic Spark Essence x 6000, T2 Alpha Spark Essence x 3500, Bot Chips x 16 000
Act - Relic Ticket x 4, T4 Basic Spark Essence x 4000, T3 Class Spark Crystal x 1, T2 Alpha Spark Essence x 5000, Superior Crystal x 1, 4 Star Bot Crystal x 1

[MASTER]
Completion:
Ch1 - 4 Star Bot Crystal Shards x 500, T2 Alpha Spark x 1, T3 Basic Spark Essence x 5500
Ch2 - 4 Star Bot Crystal Shards x 700, T2 Alpha Spark x 1, T3 Basic Spark Essence x 6500
Ch3 - 4 Star Bot Crystal Shards x 800, T2 Alpha Spark x 1, T3 Basic Spark Essence x 8000
Act - 5 Star Bot Crystal Shard x 500, 4 Star Bot Crystal x 1, T3 Basic Spark x 2, T2 Mod Class Spark x 1
Mastery:
Ch1 - T3 Class Spark Crystal Shard x 2000, T4 Basic Spark Essence x 2500, Bot Chips x 10 000
Ch2 - T3 Class Spark Crystal Shard x 3000, T4 Basic Spark Essence x 5000, Bot Chips x 16 000
Ch3 - T3 Class Spark Crystal Shard x 5000, T4 Basic Spark Essence x 7500, Bot Chips x 24 000
Act - Relic Ticket x 5, 5 Star Bot Crystal Shards x 1500, T3 Alpha Spark x 1, T3 Class Spark Crystal x 1
Tagged: