Home
›
General Discussion
I've Completed Rulers Of Kaon!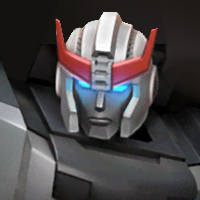 VectorSierraXÎX
Posts: 38
Christ almighty, it's been a long time coming for me to achieve this and the funny thing is, it wasn't planned at all! I was minding my own business and then I just thought, "Hey, why don't I try ROK for once and see how far it leads me?" and then, I beat it. It was honestly super satisfying beating one of the most difficult contents the game has to offer. And to me at least I've felt like I just mowed through all the bots like nothing.
Here are my team composition:
5* R3 Optimus Primal (30/30 Levels | 0 Forge)
5* R3 Scorponok (30/30 Levels | 0 Forge)
5* R4 Cheetor (40/40 | 0 Forge)
5* R3 Rhinox (30/30 | 0 Forge)
5* R4 Waspinator (40/40 | 0 Forge)
All bots are awakened.
My Beast Wars team has always been the go-to bots I would take in practically almost any content from raids to spotlight missions and the increasing difficulty of story missions with each subsequent acts. I'm super proud of each of my beast wars bots and I'm grateful they were my first heavy investments every since the beginning. They've never let me down once.
The bots I've used against each ROK bots:
1.
Rhinox
> Mixmaster
2.
Scorponok
> Sideswipe
3.
Cheetor
> Grindor
4.
Waspinator
> Starscream
5.
Optimus Primal
> Bludgeon
6.
Cheetor
> Soundwave
7.
Optimus Primal
> Grimlock
8.
Scorponok
> Barricade
9.
Rhinox
> Mirage
10.
Optimus Primal
> Bonecrusher
11.
Waspinator
> Ultra Magnus
12.
Waspinator
> Demolition Megatron
Out of all these fights, perhaps the most satisfying of them all to me has to be the fight against Mirage and Bonecrusher.
For Mirage. I've heard a lot of players mentioned to make sure you avoid giving Mirage his special one at all cost otherwise the range speed increase and damage coupled with the shock mod would just kill you if you don't have a way to purify the shocks. It's part of the reason why I've brought along my Beast Wars team with the Beast Purification synergy active, providing all bots instant purification when performed a heavy attack. Now, the really funny thing is, I never knew Rhinox would actually be able to nullify Mirage's SP1 range speed and damage buff from his signiture. The moment I tried it and found out about it, I was like "No way!" and then proceeded to spam Rhinox's heavy attack and SP1 at him whenever Mirage deploys his SP1. It just feels so satisfying.
For Bonecrusher however. He basically just kept feeding power to my Optimus Primal. When Primal gets his maxed armour buffs. The bleeds being inflicted on him ended up healing my Primal more than the damage itself being dealt to him by Bonecrusher. Essentially you could never die and in a way makes him the best healing bot (from bleeds) in the game! And my Primal's signiture level was only at level 9! I just laughed at Bonecrusher throughout the fight and just went at him, giving him his SP3 and my Primal just shrugs it off like nothing, dealing so little damage with 10 armour buffs active and getting healed from the bleeds at the same time. It was great overall.
But seriously though, the rewards in of itself, while I'm grateful to receive them, are severely outdated just like the ones in story missions and spotlight missions. 5* bots are out at this point, Kabam. Could we at least get something more or better for which we could use to level up our 5*s please?
And here I am displaying my rightfully earned trophy on my home base in all of its glory. It was really a surprise and I never thought I'd be able to beat ROK at least but I did it.
By the way, in terms of Energon I've spent. It was
a total of 280 Energon
, 130 Energon on one Tier 5 Squad Repair Kit and x3 Tier 5 Squad Repair Kit (50 Energon each) It could have been way lower if I've just spent the Energon on individual repair kits instead for the final fight against Demolition Megatron. My Waspinator and Cheetor made good work on him. Each of my bots were MVPs. I couldn't have done this without each of them.
Hopefully this thread helps to all who hasn't completely ROK yet and serve as an entertaining thread for those who have beat it.
Edit:
Oh and by the way, it wasn't an intentional testing on my part but I've found out that for Grindor, when I was hit by his SP3, he was supposed to inflict a permanent crit rate debuff on my Cheetor when I've fought him but it doesn't seem Grindor in ROK was updated with the latest patch for him a few months back. The same goes for Ultra Magnus where I was hit multiple times by his SP1 which was supposed to inflict on armour break but it never did on my Waspinator. Ultra Magnus is supposed to inflict burn debuffs from his heavy attacks, SP2 and SP3 as well but it never triggered. You might want to look into it, Kabam. I'm just saying.