Home
›
General Discussion
The Transformers Forged to Fight community has officially moved to Discord. For all the latest news and updates,
join us here!
ENHANCEMENTS TO SOUNDWAVE & GRIMLOCK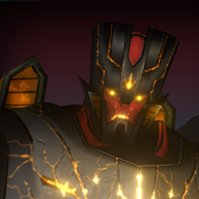 Kabam Boo
Posts: 6
Administrator∙Moderator ›
Commanders,

Tomorrow, July 30th, we'll be rolling out some updates to two of our Community teams favourite Bots! Miike's favourite, the chatterbox Soundwave, and Vydious's favourite, the venerable Grimlock!

These changes will go live around the same time as the new Spotlight Mission, but that time may vary.

Soundwave
Soundwave has one of the most unique playstyles, requiring him to land Heavy Attacks and Special Attacks to generate Power. The usefulness and damage of his SP2 meant that many players ignored his SP1 and even SP3.

These changes make his SP1 a more reliable tool to Stun the opponent and drain their Power. Meanwhile, SP3 gets a damage increase, making it more likely to finish off the opponent. It also has a higher chance to Stun.
Increased chance for SP1 to Power Drain from 75% to 85%.
Increased chance for SP1 to Stun from 50% to 60%.
Increased Shock Damage on SP3 from 60% to 80%.
Increased chance for SP3 to Stun from 40% to 65%.
Grimlock
Grimlock is a strong Brawler who can stack Melee bonuses like no other, but he lacks a way to gain those bonuses outside of being hit or being affected by damaging Debuffs.

The change to SP1 will allow Grimlock to generate his own Melee Buff with only one bar of Power.

Don't forget Grimlock refreshes his Melee Buffs when he switches to Dinobot form. In addition to being Invulnerable in Dinobot form, he is now Unstoppable. This gives him a new defensive option if used with the correct timing.
Improved Signature curve. Goes from 8.7% to 30%.
100% chance to gain a Melee Buff for 5 seconds when performing SP1.
Become Unstoppable (in addition to already being Invulnerable) when in dinobot form.
Tagged: