Home
›
General Discussion
Rulers of Kaon guide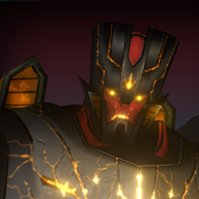 SkBirdman
Posts: 391
Hi all,

So, a few days back I managed to finish Rulers of Kaon. It took me plenty of preparation and practice but I eventually got there, and given there seems to be so little discussion about what is the most difficult mission in the game I figured I'd share my experiences with it and put together a little guide for anyone who wants to have a serious crack at it.

1) Bot choice

This is without a doubt the most important part of the mission. You can be the best player imaginable but if you pick the wrong bots you are going to struggle to get any traction here. My recommendation is to get the TFTF 411 Bot on Line and look at the RoK bot list before you even start (thanks Trailfire for that!) and to watch the Youtube videos by iNightSkies, they will show you how the bots behave in game.

I eventually settled on the below listing, I've included Rank (R), Level (L) and Forge level (F) as well:

4* OG Optimus Prime (R4, L40, F100, Duped)
4* Ratchet (R4, L40, F24, Duped)
4* Shockwave (R4, L40, F62, Unduped)
4* Drift (R4, L40, F43, Unduped)
4* MV1 Prime (R4, L40, F19, Duped)

I will explain the matchups and the reasoning behind my choices a bit later on in the guide. Needless to say the OG Prime/Ratchet combo is a necessity, both bots are incredible in this and I have a new appreciation for Ratchet's power. The other bots are more specific hard counters for bots that I expected to give me trouble.

Having finished the mission now, in hindsight I would've made one change to this list and swapped Drift out for my duped Grimlock, basically the matchups I expected to need Drift to counter weren't that difficult anyway.

2) Energon

99.9% of people won't be able to get through this without using revives, myself included! Having spent a couple of months beating my head against Mixmaster and Sideswipe while practicing I came to the conclusion that I should plan for 1 team revive and repair per opponent. This equates to 1 tier 1 squad revive and 5 tier 4 squad repairs for my squad (some big hitters like OG Prime weren't fully healed after this however), which is 300 energon a pop.

Given there are 12 opponents I planned for 3600 energon. I actually went and started the mission a little under at 3561 (I got impatient hoarding all that energon!). However there was one matchup I wasn't expecting to be as ridiculous as it was (looking at you Mirage!) and given I didn't have a hard counter for the matchup I ended up having to purchase another 850 to get me through.

By the end of it I had spent 3837 Energon. Is that good? I have no idea, it could be a good run or a horrible one. I have no doubt that many players could do it for less however. Either way planning for 4000 energon to be used should give you some buffer.

3) Matchups

Ok, here we get to the good bit, the fighting! Below is a list of opponents, my preferred bot to use and any notes about the matchup itself. I also categorise each opponent as one (occasionally more) of the following:

Damage: This opponent is a damage dealer, either they or their mod allows them to dish out a lot very quickly or in bursts.
Control: This opponent controls the flow of battle, forcing you to be reactive and/or change your method of approach.
Tank: This opponent prevents/reduces damage. They may not deal a lot but the fights take a long time and they will wear you down.

I also give my perceived difficulty rating, out of 10 and will give a recommended bot (usually from my list but I also include other options).

1) Mixmaster
Type:Damage
Difficulty: 8/10
Recommended Bot: Shockwave/Prowl
Mixmaster's difficulty lies solely in his burst damage and that he is so unforgiving. If you make one mistake and get tagged by a special you are done for. You need to be very mindful of his power bar to ensure that he doesn't get too close to his SP3, he can be hard to bait into a special if his power bar gets too high.

I recommend Shockwave or Prowl for this one because their SP1's both drain lots of power and will keep Mixmaster under wraps rather well.

2) Sideswipe
Type: Damage/Control
Difficulty: 6/10
Recommended Bot: Drift/Hot Rod/Bonecrusher
Sideswipe is one of those bots I expected to be harder than he actually is but he is still a tricky guy to pin down. If you have a bot capable of reducing his evade use them otherwise this fight will be long. He is easy to bait specials for so don't worry about him hitting his SP3 too much.

One thing I noticed is that if you hit him with ranged attacks while his SP2 evade buff is up he gains power at a ridiculous rate, almost as if the game registers the hits as evades. Be very wary of this. (I think it's a bug because I couldn't find any mention of it in his power set or mod description)

3) Grindor
Type: Tank
Difficulty: 3/10 (if using Armor Break, otherwise 10/10)
Recommended Bot: OG Optimus Prime
Let me start with saying you MUST use an Armor Break bot for this. If you don't Grindor will become nigh invincible after a couple of Armor buffs (only Bleed, other status effects and direct damage [Galvatron's Dark Burn etc.] will hurt him), and the buffs generated by the mod do not expire. If using OG Prime this is one of the easiest fights in RoK however, his heal synergy with Ratchet will outrun Grindor's damage easily and his SP3 will ensure that Grindor will always take some damage regardless of his Armor Buffs.

4) Starscream
Type: Damage/Control
Difficulty: 7/10
Recommended Bot: Ratchet
I underestimated Starscream. His mod is very easy to work around (his SP2 is unblockable but it's easy to avoid anyway), however his signature ability is what makes him lethal. It has an 80% chance to nullify any buff and the direct damage is huge. Screamer likes to play defensively and let his ranged attacks do their work, and he doesn't give you a lot of openings.

I used Ratchet for this one because of his reliable heal. The fight is slow but if you play it cautiously you can keep in the fight and come out on top. Be warned however that if Screamer hits you while healing it will nullify.