Home
›
General Discussion
Necrotronus is the inferior version of Hot Rod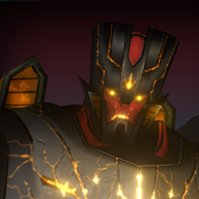 VectorSierraXÎX
Posts: 79
I've recently been working on where to put Necrotronus on my personal tier list of warrior bots and this is what I have concluded. Necrotronus is essentially an inferior version of Hot Rod - let me explain.

If you think about it. Hot Rod could basically do what Necrotronus could do, but better in some ways in my opinion.

For one, Necrotronus' signiture provides him increased critical damage up to 80.3% (if the bot intel report is to be accurate) and titan charges up to 40 which in-turn increases his attack power. At the lower signiture levels, the increased critical damage isn't much significant. For Hot Rod's case. If you pair him up with Mirage, it gives him +30% critical damage on all attacks and that's without the need to have his signiture unlocked, unlike Necrotronus.

Speaking of signatures. Hot Rod has a guarantee to gain massive amounts of power per hit once his signiture is unlocked, with the added bonus of having a chance to evade range attacks. For Necrotronus on the other hand, you only have a chance to gain power on his special 1 attack.

Necrotronus' special 2 could do massive amounts of damage in tandem and has a chance to provide an increased critical rate buff. However Hot Rod could also do massive amounts of damage consistantly, as long as you have inflicted a deceleration debuff on the opponent which when hit with a melee attack, automatically provides you an increase critical rate buff per hit without the need for his specials 2 to provide him said buff unlike Necrotronus. The overall damage output of Hot Rod rivals that of Necrotronus' titan charges at max 40 charges or more even.

Hot Rod is not able to inflict damaging debuffs unlike Necrotronus, but his constant high critical damage output more than makes up for it. While Necrotronus' bleed is extremely weak compared to the likes of Bonecrusher or Scorponok. However once Overwhelming Power is active, every hit inflicts / refreshes his bleeds which could prove beneficial is certain scenarios.

Necrotronus has a 20% chance to prevent the opponent from evading per melee hit, however Hot Rod could completely cancel out any evade chance on the opponent with a deceleration debuff inflicted on them. Necrotronus himself does not have a chance to evade unlike Hot Rod.

The Deceleration debuff on Hot Rod once inflicted also reduces the opponent's power flow by 22 - 37.5% per stack. While perhaps not as strong as Necrotronus' power rate down ability which reduces the opponent's power gain by 50%. Hot Rod could stack a maximum of 2 deceleration debuffs in most scenarios on the opponent. Thus rival that of Necrotronus' power rate down ability.

Necrotronus' Overwhelming Power ability leaves him more vulnerable as the fight progresses. A decrease in his block proficiency and takes increased melee damage by up to 25%. Unless you're good at maintaining combos, this will not be a factor to you but it's still something to consider given no other bot in the game has this rather detrimental ability towards themselves. However Necrotronus has a chance to become unstoppable, potentially saving you from taking damage while the opponent launches their own special attacks.

Hot Rod has a chance to stun on critical heavy attacks while Necrotronus' heavy simply has an increased chance to be a critical hit per titan charge.

Lastly when Necrotronus drops below 10% health, he gains 2 bars of power and activates a burn aura effect around him. In most instances, you'll rarely trigger this ability of his as most of the time you'd rather want to avoid taking unnecessary damage whenever possible. But when it does trigger you could be guaranteed a win at times.

So there you have it. These are objectively my thoughts on Necrotronus. As Kabam puts it. Necrotronus is 'a more powerful version of Megatronus, being merged with a Necrotitan'. But in reality, and some of us already knows this. Megatronus is far superior in terms of overall utility and survivability.

My advice would be, if anyone is seeking to use their Titan Fragments on a 5* Necrotronus and does not have a 5* Megatronus themselves. You might want to reconsider. But to each of their own in this case. Purchase and use what you like, as long as you're happy. That's all that matters.

TL;DR - Hot Rod to Necrotronus : Whatever you do, I can do better.