Home
›
General Discussion
Bot Intel Report: Nemesis Prime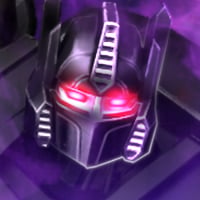 Kabam Miike
Posts: 1,832
Administrator ›
Created using a subspace impulse cloner, Nemesis Prime is a dark clone of the heroic Optimus Prime. Although he wears the Decepticon insignia, it's unclear where his loyalties lie.


Faction:

Decepticon



Class:

Tactician



Check out the Full Intel Report here!

With Nemesis Prime, we wanted to try something new for his release that makes him a little more rare than other Bots. He is no regular bot, and will use a New Arena to grant a chance to acquire him.

Shattered Time Arenas and Featured Bot Crystals

From July 11th - 18th, you can acquire Nemesis Prime's Featured Bot Crystals (Dark Matrix and Doppelganger Crystals) from Arenas and for Energon under the Crystal Tab.

Everyday, you can participate in the 1-Day Shattered Time Arena that features these Featured Bot Crystals in Rank Rewards.

Take a look at the breakdown of the Rewards Below:




These Featured Bot Crystals also have a chance to award Thundercracker!

Get ready Commanders, Nemesis Prime is sure to remain a rare and elusive Bot!

Tagged: